Welcome to our step-by-step tutorial on drawing a Cute Mustache Cup! This fun and engaging art activity is perfect for kids and toddlers who want to enhance their drawing skills and have a blast being creative. Let's get started!
Materials Needed
Before we begin, gather the following materials:
Pencil
Paper
Eraser
Color markers or crayons
Now that you have everything ready, let's dive into the step-by-step process of drawing a cute Mustache Cup!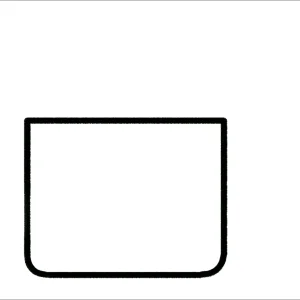 Step 1: Draw a Square Shape
Begin by drawing a square in the center of your paper. Make it extra cute by curving the bottom corners. This square will be the base of our cup.
Step 2: Add the Handle
On one side of the cup, draw a handle in the shape of a square. Keep the corners curved to match the cup's adorable style.
Step 3: Draw the Eyes
Inside the cup, towards the top, draw two cute and expressive eyes. Make them as big as you like!
Step 4: Add a Small Mustache
Just below the eyes, draw a playful mustache shape. This gives our cup character its unique charm. Get creative with the size and shape of the mustache.
Step 5: Put a Heart on Top
Above the cup, draw a lovely heart shape. You can add patterns or leave it plain. It adds a sweet touch to our artwork.
Step 6: Color Your Cup and Mustache
Bring your cup to life with colors! Grab your art materials like pencils, paper, erasers, markers, or crayons. Use your imagination to choose vibrant or soft shades for the cup, handle, eyes, mustache, and heart. Make it unique and exciting!
Remember to have fun and enjoy the creative process. Drawing allows you to express yourself and explore your artistic side. Share your masterpiece with your loved ones and feel proud of what you've accomplished!  If you prefer visual guidance, you can watch the following video for a more detailed and interactive tutorial:
Frequently Asked Questions about Cute Mustache Cup
Q: What age group is this drawing tutorial suitable for?
A: This drawing tutorial is perfect for kids and toddlers who want to enhance their drawing skills and have a blast being creative.
Q: Can I use color markers or crayons for this drawing, or are colored pencils recommended?
A: You can use color markers or crayons to bring your drawing to life. The choice of materials is up to you, so feel free to get creative with your coloring.
Q: How can I make the mustache on the cup look unique and fun?
A: To make the mustache look unique, get creative with its size and shape. Experiment with different styles to give your cup character its own special charm.
Q: Is it necessary to add a heart on top of the cup, or can I leave it plain?
A: Adding a heart on top is optional. You can choose to add patterns or leave it plain. It's your artwork, so make it your own and add your personal touch.
Q: Where can I see more similar drawing tutorials like this one?
A: You can find more similar drawing tutorials on Cute Easy Drawings' YouTube channel. Enjoy your creative journey!
Table of Contents
Related Images: