Parents, embark on a creative journey with your kids through this engaging how to draw a cute Rakhi tutorial. 🌈 This step-by-step tutorial not only sparks creativity but also enhances fine motor skills. As you follow along, your children will experience the joy of creating something beautiful and meaningful. Take this opportunity to bond with your young artists and create lasting memories. Join hands and imaginations to make this rakhi-themed artistic adventure truly special!
🖍️ Materials Required
To begin, gather these basic materials:
Paper
Pencil
Eraser
Pencil Colors, Color Markers, or Crayons
---
Now that we're all set, let's start creating your adorable rakhi masterpiece step by step.
---
Step 1: Draw the Basic Circles
Using a divider or any circular object like a bottle cap, draw two circles on your paper. The larger circle will be the base of your rakhi, and the smaller circle will hold the face of your cute rakhi character. Inside the smaller circle, sketch two closed eyes and a friendly smile to give your rakhi its charming expression. 😌
Step 2: Add Hearts and Circles
Within the space between the two circles, draw six small hearts. These hearts will be the decorative elements of your rakhi. Now, in between these hearts, create tiny circles to form a beautiful mandala-like pattern. This intricate design will make your rakhi even more eye-catching.
Step 3: Expand the Design with Semi-Circles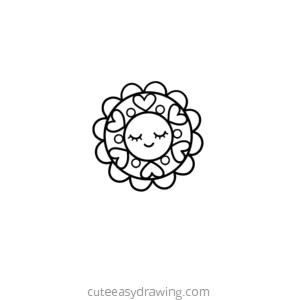 Extend the design by drawing semi-circles around the outside of the larger circle. These semi-circles will enhance the mandala design, creating a lovely border for your rakhi.
Step 4: Create the Lace
To complete the rakhi, it's time to add the traditional lace that ties around the wrist. Draw the lace on both ends of the rakhi, and don't forget to add two small circle beads on each end of the lace. These beads give your rakhi a realistic touch and make it look more festive.
Step 5: Finishing Touches
Now, let's add some final details. Decorate the lace with some intricate patterns, and scatter a few more hearts around the rakhi for an extra adorable touch. Underneath the rakhi, write the words "Happy Rakhi" to convey your warm wishes.
Step 6: Add Vibrant Colors to your Rakhi
The last step is to bring your rakhi to life with colors. Use vibrant shades of red, orange, blue, and any other colors you like to make your rakhi truly pop. Color in the hearts, the mandala design, the lace, and the text to create a stunning and joyful rakhi masterpiece.
---
Four Easy Steps to Draw a Cute Rakhi
🌟 Congratulations, you've created a cute rakhi that's ready to celebrate the special occasion!
Celebrating Raksha Bandhan
🎉 Raksha Bandhan, a heartwarming Indian festival, celebrates the bond between siblings. Sisters tie a sacred thread, the rakhi, on their brothers' wrists, symbolizing love and protection. Gifts and sweets add joy, making it a cherished day of togetherness. Happy Raksha Bandhan! 🎈
Conclusion on How to Draw a Cute Rakhi
Drawing a cute rakhi step by step is a delightful activity that kids and toddlers will enjoy. With just a few simple steps, you've crafted a charming rakhi that's full of heart and personality. Remember to have fun with colors and let your creativity shine as you bring your rakhi to life.🎉
Once you've completed coloring your Rakhi, take a step back, and admire your artistic creation. If you prefer visual guidance, you can watch the following video How to Draw Rakhi Easy for a more detailed and interactive tutorial.
---
Frequently Asked Questions (FAQs)
Q: What age group is this drawing tutorial suitable for?
Q: Can I use markers instead of colored pencils?

A: Absolutely! You can use markers, crayons, or any coloring tools you have on hand.

Q: How can I make my rakhi even more unique?

A: Feel free to add your personal touches, such as glitter, sequins, or even small beads, to make your rakhi extra special.

Q: Can I use a different phrase instead of "Happy Rakhi"?

A: Of course! You can write any message you like to personalize your rakhi.

Q: Where can I find similar drawing tutorials?
Remember, the goal is to have fun and create cherished memories with your little artists. Happy drawing! 🎨😃
---
Table of Contents
Related Images: