Raksha Bandhan is a joyous occasion that celebrates the bond between siblings. What better way to express your love and creativity than by creating a cute and easy Raksha Bandhan Drawing? In this step-by-step guide, we'll walk you through the process of crafting a heartwarming Rakhi illustration that will bring a smile to your face and your sibling's heart.
Materials You'll Need 🛍️
To begin, gather these basic materials:
Paper
Pencil
Eraser
Pencil Colors, Color Markers, or Crayons
---
Now that we're all set, let's start your adorable Raksha Bandhan Drawing step by step.
---
Step 1: Drawing the Heart and Circle Base 💖
Begin by drawing a full-size heart on your paper. Inside this heart, create two circles using a divider to ensure perfect symmetry. These circles will serve as the foundation for your cute Rakhi design.
Step 2: Adding Expressive Elements 😊
Now, let's bring your Rakhi to life! Draw two cute closed eyes and a charming smile. Sketch a hand below the circle. This circle will later transform into the Rakhi.
Step 3: Crafting Intricate Details ✍️
Move on to drawing two more hands—one emerging from each corner within the heart shape. For a clearer guide, refer to an image to get the perfect hand shape.
Step 4: Fingers and Embellishments 👌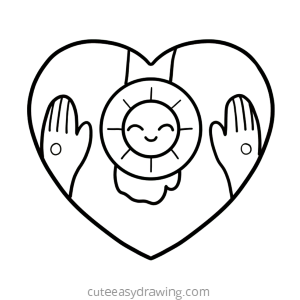 Enhance the hands by adding fingers to them. Incorporate small circles onto the hands, resembling mehndi patterns. Between the two circles, sketch eight lines connecting the inner circle. These lines will aid in designing the Rakhi.
Step 5: Designing the Rakhi 🌼
Create semi-circles along the lines you've drawn. This will form a mesmerizing mandala design for the Rakhi—making it even more special and unique.
Step 6: Adding the Finishing Touch 🎀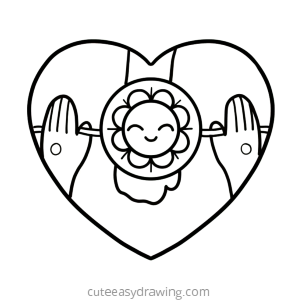 Integrate a thread on both sides of the Rakhi, connecting it to the hands. This final touch adds authenticity and depth to your Rakhi Drawing.
Step 7: Color Your Creation 🌈
Now comes the fun part! Use your favorite colors to bring vibrancy to your Rakhi design. Whether you choose traditional hues or let your imagination run wild, this step allows your creativity to shine.
---
🌟 Congratulations, you've created a cute rakhi that's ready to celebrate the special occasion!
Why We Celebrate Raksha Bandhan? 🎉
Raksha Bandhan, the heartwarming Indian festival, is all about sibling love! 🤗 Sisters tie colorful rakhis on their brothers' wrists for protection and good vibes. In return, brothers promise to be their lifelong supporters. It's a bond that's as strong as a fortress! 💪 So, Raksha Bandhan is all about celebrating and cherishing the amazing love between brothers and sisters. 🥰
Conclusion: A Symbol of Love and Creativity 🖌️
Incorporating your artistic talents into the celebration of Raksha Bandhan adds a heartfelt touch to this special day. Your hand-drawn Rakhi design encapsulates the essence of your bond with your sibling, making it a cherished keepsake for years to come.
If you're looking for visual guidance to follow along with the steps, you can watch a tutorial video on creating this Raksha Bandhan drawing on YouTube. Here's the link to the video: Watch Raksha Bandhan Drawing Tutorial.
In the video, you'll see each step demonstrated visually, making it easier to understand and replicate the process. Happy drawing!
---
Frequently Asked Questions (FAQs) ❓
Q: How can I make the design more intricate?

A: You can experiment with additional patterns and details on the Rakhi, such as intricate motifs or personalized messages.

Q: What if I'm not confident in my drawing skills?

A: Remember, it's the effort that counts. Embrace imperfections; they add a unique charm to your creation.

Q: Can I use different art supplies?

A: Absolutely! Feel free to explore with watercolors, pastels, or any other medium that sparks your creativity.

Q: How do I make sure the proportions are accurate?

A: You can lightly sketch guidelines before starting. These can be erased later to avoid any visible lines.

Q: Where can I find similar drawing tutorials?
Remember, this creative process is about celebrating the love you share with your sibling in a unique and personal way. Have fun, and happy Raksha Bandhan!🎨😃
---
Table of Contents
Related Images: